XEL-HA
The east coast of the Yucatan Peninsula offers a series of inland coves called 'caletas' that run from Cancun south all the way to the north end of the Punta Allen Peninsula. These caletas are shallow, saltwater pools that usually begin at the ocean with a narrow inland entrance and then become larger lagoons just in from the coast.
Caletas range from hidden and relatively unvisited versions such as the caleta just north of Akumal, to the major tourist attraction and overpopulated version such as the one at Xcaret. And then there are those that are somewhere in the middle such as Xel-Ha, not undiscovered but not ruined by the masses...yet.
Anyone who likes the idea of swimming in warm, calm, crystal clear waters will love a visit to Xel-Ha. It's the perfect place to learn to snorkel, sneak a peek at the underwater world and even take an upclose and personal look at a variety of friendly fish.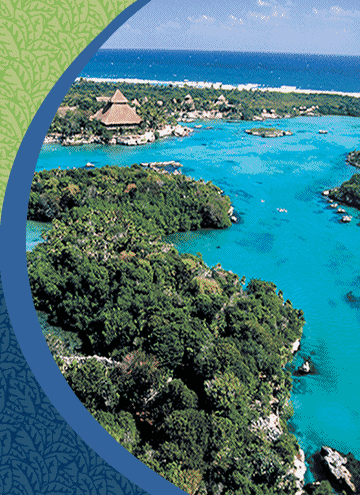 Xel-Ha is located just off of Mexico Highway 307 south of Akumal and north of Tulum. It's about an hour south of Cancun and a great place for a half-day excursion. It is open seven days a week and the fee to enter the lagoon is not too expensive. Kids are even cheaper.
Rooms are available for those who want to change from regular clothes into bathing suits, masks and snorkels can be rented for those who want to take a dip, and a restaurant is available for those who want to spend way too much money for a casual meal.
Kids and adults who want to act like kids love Xel-Ha because it is a safe and fun place to play in the water. The water is not very deep, and the bottom of the lagoon can be seen at all times, providing a bit of security for those not 100% comfortable with swimming in the ocean water. There are no large fish in Xel-Ha, only the small friendly type.
Lizards and iguanas roam the grounds of the jungle surrounding Xel-Ha, completing the 'Indiana Jones' feeling of the area. Xel-Ha can be a destination unto itself, but is best played out as a stop-over on the way to or from the ruins at Tulum.
For a visit to a glorified and overdeveloped version of Xel-Ha the nearby village of XCARET is an option, and for a more relaxed version the lagoon just north of AKUMAL is a fun alternative.
For more information on Xel-Ha drop by the XEL-HA web site.
Top of Page
Cabo Expo
Baja Expo
Mexico Expo