CANCUN'S CENOTES
Cenotes are a spectacular wonder of nature, and are unique to the Yucatan Peninsula! Cenotes are pools of fresh subterranean water which have been exposed to the surface by the collapse of the limestone ground at the surface.
Cenotes are perfect for people who aren't 100% comfortable swimming in the ocean or in larger lakes. Most cenotes are somewhat small in size, the water is calm, fresh and crystal clear, and the underwater life usually consists of very small friendly fish.
People who want to try snorkeling for the first time often try it in a hotel pool, but snorkeling in a cenote is much more fun. After all, who wants to look through a mask at the bottom of a hotel pool? Not!
There are numerous cenotes in the Cancun area, the most popular ones located south of town and itemized below. These cenotes are listed in order, from their location from Cancun, from north to south.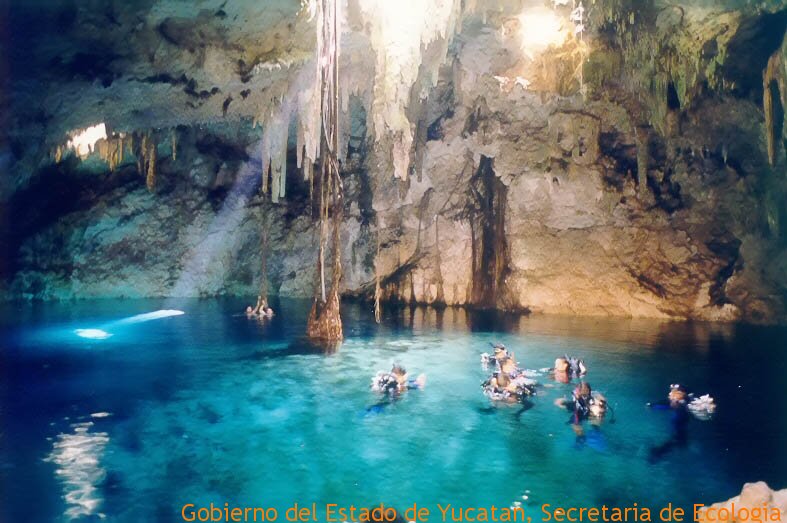 E-mail: welcome@cancun.com
Cenote snorkeling tours, Chichen Itza tours, Rio Lagartos tours, and Yucatan Peninsula Tours.
All tours are offered in smaller quality groups in comfortable passenger vans. Check out their web site for more information!
---
CASA CENOTE

Located just 15 minutes south of Cancun.
One of the closest cenotes to Cancun, and a great place to experience a cenote for the first time! The cenote itself is actually pretty easy to get into and out of, and the calm and clear waters are fun for kids! Casa Cenote is actually very close to the ocean, and has a connecting tunnel to the Caribbean! Although swimming in the connecting tunnel is not suggested, it is interesting how the salt water comes into the cenote and mixes with the fresh water. Another nice feature of Casa Cenote is a fun ocean view restaurant between the cenote and the Caribbean!

TRES RIOS CENOTE

Located 35 minutes south of Cancun.
This cenote is located in a land and water nature preserve. In addition to swimming in the cenote, other recreational activities include kayaking, canoeing, horseback riding, and biking. A restaurant is available.

TAJ CENOTE

Located just south west of Playa del Carmen.
The Taj Cenote is a good advanced cenote location, for those who are very comfortable with their swimming skills. To enter the Taj Cenote one must swim 5 meters underwater, under a rock wall. Once under the wall, you come up into a large open cave. Light enters the cave from 2 holes in the ceiling to light up the cave and the water...it's quite a site!

CALAVERA CENOTE

Located 3 kilometers from Tulum on the road towards Coba, right side.
Probably the most dangerous cenote in the area. Calavera is easy enough to get into...just jump! However, getting out can be a problem because of the ten foot drop from the cenote rim to the water. Exit can usually be made using an existing tree branch, or by bringing a rope!

GRAND CENOTE

Located 4 kilometers west of Tulum, on the road to Coba, right side.
A collection of several cenotes around the edge of a large oval depression. These cenotes offer shady and rocky floors, green and blue water, and some stalactites dripping from the cave ceilings.

CAR WASH CENOTE

Located 7 kilometers west of Tulum on the road to Coba, left side.
A fun cenote for swimming, snorkeling, and diving. The locals like this cenote because of the inexpensive cenote fee.

CENOTE CRISTAL

Located 4 kilometers south of Tulum, on the way towards Chetumal.
This is actually 2 cenotes, on on the left side of the highway and one on the right side. The larger of the two pools is about an acre in size, with much of the access up a 18 foot cliff, or on the far side via the vegetation. Usually not over run with tourists..a nice place for a picnic!

CENOTE AZUL

Located well south of Tulum, approximately 20 miles north of Chetumal.
A spectacular cenote in a beautiful garden setting. This large cenote is 500 feet across and almost 200 feet deep. Snorkeling the rim is quite interesting, although the bottom can only be seen with Scuba gear. A beautiful restaurant is located right on the edge of the cenote, and is a great place to relax in the cool shade!

Top of Page Cabo Expo Baja Expo Mexico Expo