ISLA MUJERES
Isla Mujeres (the Isle of Women) is just a short hop across the channel from Cancun (3 miles - 5 kilometers), and a world away in time. This small island offers much of what Cancun offers, but on a more intimate scale. Beautiful beaches, excellent snorkeling, good restaurants, and wonderful shopping are less than an hour away from your Cancun hotel room!
The island is less than 4 miles long and only 500 meters wide, so renting a moped or a bicycle can be a great way to explore the island. The turtle farm and dolphin enclosure on the west coast of the island are just two of the many sites that can be along the way.
El Garrafon Underwater National park near the southwest corner of the island is the perfect place to take an underwater adventure. The snorkeling here is wonderful! Further offshore, scuba divers can enjoy the Cave of the Sleeping Sharks!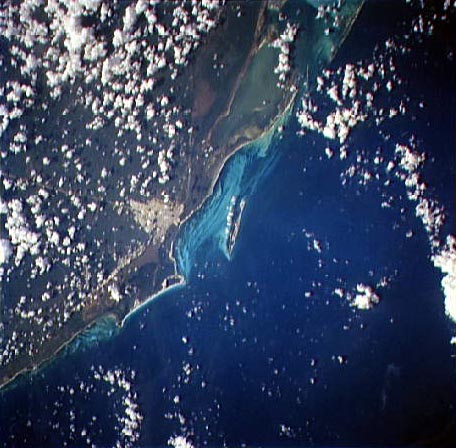 Isla Mujeres from space - center of photo
The main town on Isla Mujeres is at the very north end, right next to the island's best beaches. This is also where most of the hotels are located, some on the beach and some located right in town.
Shopping is a main draw on Isla Mujeres and many folks come over for a few hours from Cancun just to cruise the funky but fun shops. There are also many places to eat, both around town and right on the beach. Sunset cocktails can be a great way to end the day and begin those Caribbean evenings!
When traveling to Isla Mujeres from Cancun by ferry, remember that the convenient Playa Linda pier ferries are over twice as expensive as the ferries from Puerto Juarez! A water taxi from Playa Caracol (next to the Fiesta Americana Hotel) also makes regular connections to Isla Mujeres and can be reached at 011-52 (998) 886-4270.
For further information drop by the ISLA MUJERES web site.
ISLA MUJERES BY SHUTTLE

Telephone 011-52 (998) 883-3583.
E-mail: shuttle@sybcom.com.
Located at Playa Tortugas terminal, next to Fat Tuesday in the Hotel Zone.
First class passenger service to Isla Mujeres at inexpensive rates.

ISLA MUJERES - ASTERIX WATER TAXI

Telephone 011-52 (998) 886-4847.
Fax 011-52 (998) 886-4755.
Located at Playa Caracol at Club Nautic in the Hotel Zone.
Daily trips to Isla Mujeres on fast boats!

SUN TOURS ISLA MUJERES

Telephone 011-52 (998) 883-3583.
Fax 011-52 (998) 883-1963.
Playa Tortuga at km. 6.5 in the Hotel Zone, Cancun.
E-mail: suntour@cancun.com.
Providing tours to Isla Mujeres for over 12 years including snorkel tours, turtle farm tours and bike tours!

PINTA ISLA MUJERES ADVENTURE

Telephone 011-52 (998) 884-1598 * 011-52 (998) 887-2127.
Departs daily from Playa Linda on Cancun Island.
Accommodations are varied in Isla Mujeres, but mostly small and funky.
For more information on lodging options on Isla Mujeres drop by the web site of KUARTOS HOTEL RESERVATIONS.

CASA MAYA

Telephone 011-52 (998) 877-0045.
Located at #129 Calle Zazil in Isla Mujeres.
Private bathrooms / fans / hammocks / kitchen facilities / recreation area / on the beach!

MARIA JOSE HOTEL

Telephone 011-52 (998) 877-0245 * 011-52 (998) 877-0247.
Located at #21 Avenida Francisco Medero on Isla Mujeres.
Air conditioning / telephone service / bike rentals / snack bar.

POSADA DEL MAR HOTEL

Telephone 011-52 (998) 877-0044 * 011-52 (998) 877-0212.
Fax 011-52 (998) 877-0266.
E-mail: hposada@cancun.rce.com.mx.
Located at #15 Avenida Rueda Medina in Isla Mujeres.
Air conditioning / telephone / safe deposit box / pool / palapa bar / restaurant.
Top of Page
Cabo Expo
Baja Expo
Mexico Expo